Upon completing his degree in Technical Business Administration from Enschede, Roy embarked on his journey as a logistic simulation engineer. His professional chapter began in Veghel with Vanderlande, where he devoted 22 transformative years. During his tenure, he witnessed Vanderlande's metamorphosis from a modest player to a global frontrunner in material handling systems.
Roy's professional path led him to numerous global ventures. Notably, he spent a significant period in the U.S., where he pioneered and oversaw sales engineering. He recalls, "Navigating business in the U.S. is markedly different from Europe. Some aspects that are straightforward in the EU can be quite nuanced in America." This overseas tenure refined his acumen in comprehending diverse cultural nuances and business behaviors.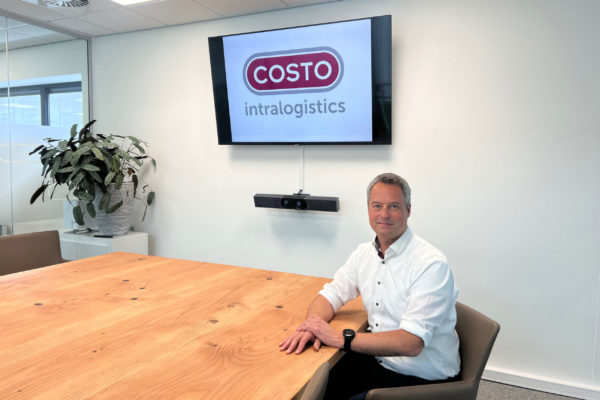 A Fresh Endeavor
After two enriching decades at Vanderlande, Roy was ready for new challenges. This first led him to Bol.com, a rapidly expanding enterprise. "I was tasked with the inception and design of new warehouses and expanding the team's capacity," he shares. Following a two-year assignment, Roy's journey led him to us at Costo.
Mandate at Costo
As the Director of Sales & Solutions, Roy's responsibilities are dual-pronged: leading the sales division and enhancing system efficiency during the sales phase. He remarks, "The tasks are similar to those I did at Vanderlande. That is exactly what attracted me to Costo: Being able to build something again". Roy says he is a firm believer in the power of people and teams. If you manage them right, you can take a company to the next level together and at the same time do more and bigger projects without significantly increasing the size of the team.
Objectives
Joining Team Costo, Roy's primary focus this year is on refining and developing structures within the sales process. "The imperative," he expresses, "is to bolster effectiveness. This might require a reevaluation of our current offerings, the leads we've secured, and the strategies anchoring our objectives." We are fortunate to have a team replete with expertise and experience. However, Roy believes that for organizational growth, "there needs to be a clear structure that everyone can grasp and align with. This ensures ease of integration, promoting swift and efficient transitions."
Roy emphasizes that the market's core pivots on two aspects: "Expertly guiding customers in their decision-making and distinguishing oneself from competitors." He discerns potential areas of improvement, especially in solution-focused approaches like design and pricing mechanisms. "The onus of customer guidance, especially during transitions, cannot be overstated. It's invaluable for a client to know their standing and to feel supported. As service providers, we're entrusted with the task to uphold this, ensuring the client's trust and fostering repeat engagements."
Should you wish to explore opportunities with Costo, Roy eagerly awaits your interaction. Our doors are always open for collaboration.