Coldservice is a logistic service provider with a complete service for cooling, freezing, tempering, packaging and storage of termperature-sensitive products. In addition Coldservice provides (inter)national transport.  
The company Coldservice
The company Coldservice was founded in 2013 by Maickel Versantvoort, in collaboration with a number of partners. Coldservice soon had 38.000 pallet spaces available, but that was nog enough either. The new high-bay warehouse provices another 12.000 places.
Lift and contour control
Compact storage
Smart buffer zone
Full automation
The warehouse in its current form has two separate expeditions, each with six docks. One is used for chilled items and the other for frozen products. The frozen side mainly receives goods with a relatively low pallet weight and are transported to and from the frozen storage via conveyor belts. Pallets are stored in and out completely; piece picking from pallets does not take place. The new section must be completely deep-freeze and completely automated.
Very compact storage
The (free-standing) pallet racks in the new warehouse will be operated by two rail-guided high bay cranes of almost 22 metres high. This system is called the ASRS, Automated Storage & Retrieval System. In this version, the pallets can be stored up to eight metres deep, allowing the warehouse to achieve a very high storage density. The pallets are moved horizontally from the crane into the racking. The stacker cranes each operate in their own aisle, which is almost 100 metres long.
Buffer zone with refridgerated boxes
New compared to the current working method are the refrigerated boxes for temporary placement of the pallets during inbound and outbound storage. The loading and unloading of refrigerated products normally requires very tight planning and short docking times, but sometimes trucks arrive later than expected. The prepared pallets then had to be returned to the pallet racks, despite the cooled area. The boxes contain aisles in which the pallets can be placed at a temperature of -20˚ Celsius. There are doors on either side to keep the temperature optimal and create the ideal buffer zone.
Twice as many pallets per hour
"Our current warehouse already has a high storage density due to the use of mobile pallet racking," says Maickel Versantvoort. "In our search for the right system for this new area, we arrived at a fully automated system from Costo. Given the high degree of flexibility in our operations, this result was not entirely expected, but the figures speak for themselves. From now on, we will be able to process 120 pallets per hour, which is twice as much as we can do now. This speed and capacity is also a great advantage for the transporters. It is not for nothing that the high-bay warehouse will primarily store the fast movers.
Maickel Versantfoord, managing director of Coldservice about working with Costo Intralogistics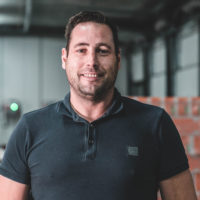 Maickel Versantfoord, managing director – Coldservice
Thinking along in solutions
Thinking along in solutions so that we can meet our extreme challenges, Costo Intralogistics really stands out in this. Here you can immediately see the many years of logistics experience and expertise.
Contact our specialists
Do you also want to start a successful cooperation for your logistics solutions? Contact one of our specialists and we will gladly help you with your challenges!